About two years ago, I recommended purchasing Evergy (NASDAQ:EVRG) for its attractive expected return. Since then, the stock has provided a total return of -2%, which is slightly lower than the total return of the S&P 500 (0%). Due to the disappointing return of Evergy, it is only natural that some investors may be considering selling the stock. However, it is critical to realize that the poor return has resulted primarily from an unforeseeable event, namely the onset of the Ukrainian crisis, which led to 40-year high inflation. Fortunately, inflation has begun to subside while EVRG stock has become highly attractive, offering a 10-year high dividend yield of 4.2% and trading at a 9-year low price-to-earnings ratio of 16.0. Therefore, investors should purchase this high-quality utility stock and maintain a long-term perspective.
Business overview
Evergy is focused on the generation, transmission, distribution, and sale of electricity in Kansas and Missouri. The utility generates electricity through coal, hydroelectric, uranium, and natural gas and oil sources, as well as renewable energy sources. The company serves approximately 1.4 million residential customers, about 200,000 commercial customers and nearly 7,000 industrial customers in Kansas and Missouri.
The prevailing economic conditions are somewhat unfavorable, with an elevated amount of risk. Due to the surge of inflation to a 40-year high last year, the Fed has been raising interest rates at an unprecedented pace since early last year. The Fed has pursued this policy in order to cool the economy and thus restore inflation to its target level of 2%. Thanks to this policy, the economy has remarkably slowed down lately and the risk of an upcoming recession has significantly increased. This is clearly reflected in the bond market, as the 2-year yield of treasuries has been above the 10-year yield of treasuries for several months in a row.
Given the increased risk of a recession, investors should be especially careful in their choices. Evergy is a great candidate in the current investing environment, as it has proved essentially immune to recessions. Even under the most adverse economic conditions, consumers do not reduce their consumption of electricity, which is essential in nature.
The resilience of Evergy was evident during the fierce recession caused by the coronavirus crisis in 2020. Notably, Evergy faced many headwinds in that year, which was characterized by milder than normal weather, both in the winter and the summer. Despite the adverse business conditions, Evergy managed to grow its adjusted earnings per share 7% in that year, to a new all-time high, mostly thanks to a sharp reduction of operating and maintenance expenses. Even better, the company has maintained its positive business momentum and thus it has posted record earnings per share in each of the last three years. To cut a long story short, investors will be hard-pressed to identify a more resilient company to downturns than Evergy.
Moreover, the company has exhibited a strong start to this year. In the first quarter, it grew its earnings per share 5.4% over the prior year's quarter, from $0.56 to $0.59. Despite milder than normal winter weather and increased interest expense amid high interest rates, the company grew its earnings thanks to strong demand, a higher transmission margin and lower operating costs.
On the one hand, management reiterated its guidance for earnings per share of $3.55-$3.75 this year. This is somewhat disappointing, as this guidance implies essentially flat earnings. On the other hand, management reaffirmed its positive guidance for 6%-8% growth of earnings per share beyond this year, until at least 2025.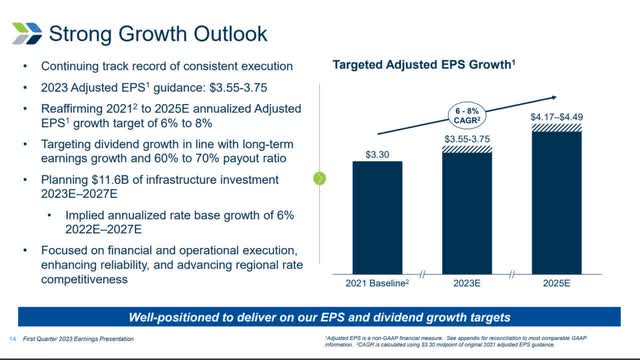 Evergy expects to achieve this growth thanks to its $11.6 billion infrastructure investment plan. As this amount is 86% of the market capitalization of the stock, it is obvious that the utility is heavily investing in future growth. It is also remarkable that the company has exceeded the analysts' earnings-per-share estimates in 9 of the last 10 quarters. Given also the fairly predictable earnings of utilities, one can reasonably expect Evergy to meet or exceed its guidance for earnings per share of $4.17-$4.49 by 2025. Analysts seem to agree on the outlook of management, as they expect the company to post earnings per share of $4.24 in 2025.
Dividend
Evergy has grown its dividend for 18 consecutive years and is currently offering a 10-year high dividend yield of 4.2%.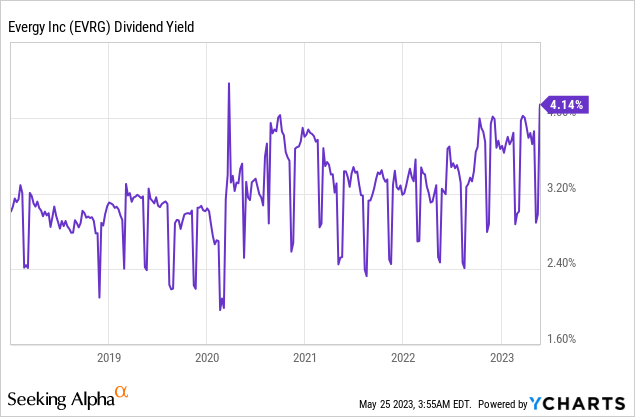 The high yield has resulted primarily from the surge of interest rates to multi-year highs, as high interest rates tend to exert pressure on the stock prices of utilities.
However, investors should not expect to find Evergy with a much higher dividend yield. Thanks to the aggressive interest rate hikes executed by the Fed, inflation has subsided every single month since it peaked almost a year ago. Thanks to the determination of the central bank, inflation is likely to remain on its downtrend in the upcoming months. As a result, the Fed is likely to begin lowering interest rates at some point in 2023 or 2024. Whenever interest rates begin to normalize, the stock of Evergy is likely to enjoy a strong tailwind.
Moreover, Evergy has grown its dividend by 8.5% per year on average over the last five years. The company has a solid payout ratio of 64% and a healthy balance sheet, with a credit rating of BBB+ from S&P and Baa2 from Moody's. Its net interest expense consumes only 33% of its operating income. Thanks to all these facts, investors should rest assured that Evergy will grow its dividend by 6%-8% per year on average in the upcoming years, in line with the guidance of management. The next dividend hike is expected to be announced in November.
Overall, investors can lock in a 10-year high dividend yield of 4.2% and rest assured that the dividend will continue rising meaningfully for many more years. Given the resilience of Evergy to recessions, its dividend should be highly attractive for most income-oriented investors.
Valuation
Evergy has traded at an average price-to-earnings ratio of 18.5 over the last decade. Notably the stock is trading at a 9-year low price-to-earnings ratio of 16.0 right now. It is also important to note that the utility is trading at only 13.7 times its expected earnings in 2025.
The exceptionally cheap valuation of Evergy has resulted primarily from high interest rates, which render the yields of utility stocks less attractive. However, as mentioned above, interest rates are likely to revert to normal levels in the upcoming years. When that happens, the stock of Evergy will probably revert to its average valuation level. As a result, the stock offers significant upside potential to patient investors.
Risk
The usual risk factors for the vast majority of stocks are the threat of a potential recession and the effect of heating competition. However, thanks to the nature of its business, Evergy is essentially immune to these risk factors.
The only material risk factor for Evergy is the adverse scenario of persistently high inflation for years. In such a case, the stock is likely to remain under pressure for years, as high interest rates will render the yield of the stock less attractive. However, the Fed has clearly stated that it will exhaust its means to drive inflation down to normal levels. As its drastic strategy has already begun to bear fruit, the odds of the scenario of sticky inflation for years have greatly decreased.
Final thoughts
Due to the headwind from markedly high interest rates, Evergy has become highly attractive from a long-term point of view. The stock is offering a 10-year high dividend yield of 4.2% and is expected to raise its dividend meaningfully in about six months. It is also on track to continue raising its dividend by 6%-8% per year in the upcoming years while it is trading at a 9-year low valuation level. Given also the rock-solid business model of this high-quality utility, the stock has an exceptionally favorable risk-reward profile.