The Greater Phoenix area has been benefitting from in-migration and construction booms in recent years, growing faster than most U.S. cities. The thriving environment also paved the way for the creation of many successful ventures and business strategies.
One of these is Evolve Ventures, founded in 2019 by Amy Malloy and Heather Personne, who have a combined 50 years of commercial real estate experience. The homegrown company provides a wide array of services including real estate strategy, market analysis, site selection and due diligence, permitting and design, construction management, financial analysis and deal structuring, as well as leasing and asset management.
Since its inception, Evolve has worked with more than 50 private and public entities to bring a various commercial and residential projects to fruition. Additionally, the firm has begun development of its own with two urban infill multifamily projects in the heart of Midtown Phoenix and Downtown Chandler, Ariz.
Commercial Property Executive interviewed the founders on their three successful years and the ever-evolving business strategies as market conditions shift post-pandemic.
---
READ ALSO: Office Leasing Strategies for the New Landscape
---
Congratulations on Evolve Ventures' three-year anniversary! Tell us more about the lessons you've learned as a professional and company throughout this timeframe.
Malloy: Part of the excitement in starting this journey with Heather was that we both knew it would not be boring or static. Development in general, and especially in the Phoenix market, is constantly changing. It was this dynamism that fueled us. We have learned to adapt to the market changes, pre-and post-COVID-19, and find solid footing in the great relationships and clients we have the pleasure to work with.
In which way has your background and prior experience shaped your current career path?
Personne: Amy and I were fortunate to spend the first parts of our careers with companies at the forefront of the industry. Amy held roles as a vice president of development for Pederson Group, senior development manager for Evergreen Devco Inc., assistant vice president for Macerich, and business advocate in the economic development department for the City of Apache Junction, Ariz.
I held roles as principal with Point B Property Development, retail partner with Phoenix-based commercial development and investment firm ViaWest Group, and principal with Evergreen Devco, a regional retail and multifamily developer.
We met through Urban Land Institute (ULI). Amy is vice chair of the ULI Adaptive Reuse, Infill and Revitalization Local Product Council and I am vice chair of the ULI National Placemaking Product Council and vice chair of ULI's Arizona District Council.
We both saw firsthand the value of becoming experts in the details and the importance of building our networks. As we've grown in our careers, we've relied on our knowledge base and our relationships to help our clients and build a community that we are proud to be a part of.
What makes Evolve Ventures stand out in today's competitive environment and why?
Malloy: One of our keys is that we are nimble. When we started out, we wanted to make sure we were filling a need in the market and that has continued to be our goal. While costs and the market remain volatile, we can provide a consistent service without adding to our clients' long-term overhead. We can come in, utilize our relationships, help guide projects to completion and leave—or come back and do the same for another project.
Elaborate on the changes your business strategy underwent since your company's inception.
Personne: While we are truly developers at heart, we intentionally started out solely in the consulting space with a goal of building up a book of business with a subsequent goal of venturing into our own development projects.
This was strategic—we wanted to have a steady stream of income, so we didn't put unnecessary stress on our families and we wanted to gain a track record of success working together. We've since been able to execute on our second goal and now have two development projects in the works with HCJ One, an investment firm in Scottsdale, Ariz. C3 is a 22-unit, three-story multifamily development in Midtown Phoenix.
We are also developing The Marco, a 16-unit, two-story community in Chandler, Ariz. Both are in walkable areas, close to new retail, restaurants and hospitality amenities. Our business strategies going forward include continuing with both the development and consulting components of our venture.
How did you manage to keep your business thriving during the pandemic?
Malloy: Heather really saw that we needed to take ownership over our future in uncertain times. Several projects were stalled in the early days of the pandemic, and we were anxious to be able to ride the storm. It was then that we were able to connect with a couple different partners and locate two sites to do our own ground-up infill development projects.
What are the measures CRE clients (office and retail, in particular) are taking to adapt to the changing real estate landscape and how are you assisting them in that?
Personne: COVID-19 has definitely accelerated the need to rethink how and where people are spending their time. Across asset classes, developers, investors and tenants are taking a closer look at how to make indoor space safer and more efficient and to maximize outdoor amenities.
Our office clients in particular are emphasizing common areas, and our retail projects are focusing on gathering spaces, activating patios and bringing in the right mix of uses to become more attractive destinations. Placemaking is front and center in all of this.
What should firms consider when making CRE decisions as they shift business strategies  and operations to accommodate remote working?
Malloy: Heather and I work 100 percent remotely and we are available 100 percent for our clients. Remote work in some form or fashion is here to stay. Companies that embrace that and find meaningful ways to stay connected to their workforce without mandating a return to office will be rewarded with loyalty and high performance.
Discuss the most popular types of leases in the current CRE (office and retail, in particular) landscape. Are there new clauses that are becoming standard?
Personne: Things are changing so quickly right now. Co-tenancy clauses that used to be typical in retail leases for space in large centers anchored by big box tenants don't make a lot of sense now with the shift to smaller, more experiential, often unanchored mixed-use developments. And use clauses are key. We are seeing new concepts come to market every day. Tenants need the opportunity to tweak their business strategies and landlords likewise need to maintain the ability to be flexible if they have the opportunity to add in a new concept.
Give us some examples of CRE trends you are seeing in the Phoenix market.
Malloy: As a life-long West Valley resident, I am beyond excited about the level and quality of development activity happening all along the Loop 303 and throughout the West Valley. For a very long time, so much of the workforce in the West Valley commuted into downtown Phoenix and the East Valley. As more of this workforce remains and grows, so does an increase in demand for quality restaurants and retail in this part of town.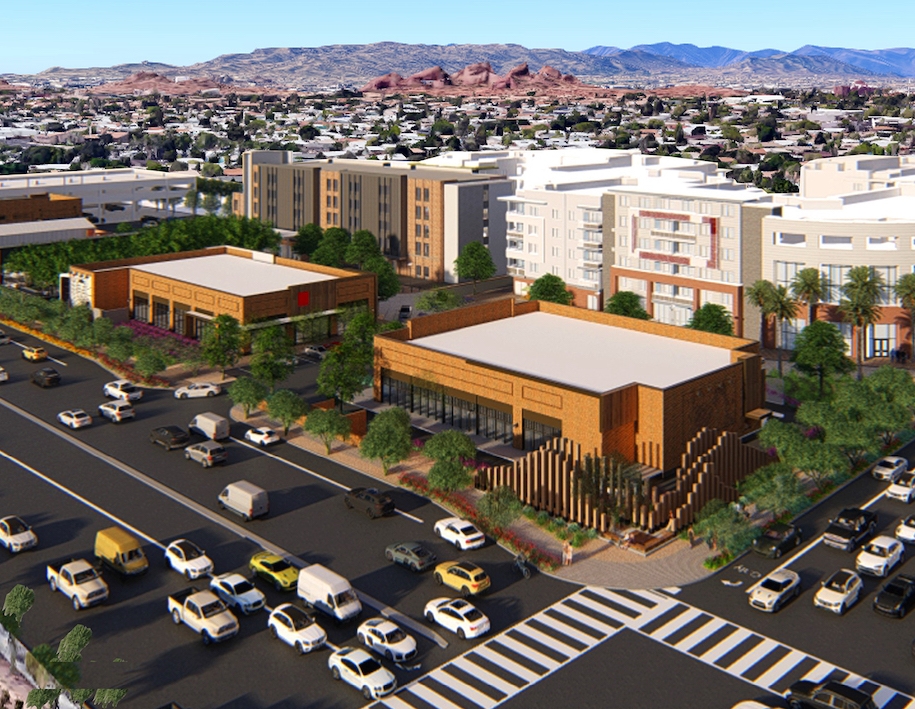 Another trend in Phoenix is a relaunch of the suburbs. As former urbanites move to the suburbs during and post-pandemic, they are demanding a new urbanism there. We are currently working with a large developer who is taking a new urbanism approach in residential communities.
What's in the pipeline for Evolve Ventures?
Personne: We are fortunate to be playing a role in some of the most exciting and innovative development projects in the Valley. Recent client projects include Arrival at Cadence, Papago Plaza, Vistancia Commercial Core, Goodyear Civic Square, Revel Surf at Cannon Beach, an Old Town Scottsdale restaurant and Parkview Place in Surprise, among others.
In the next year, our first two development projects will come out of the ground and we'll be looking for more small infill multifamily development opportunities. Our consulting pipeline is varied, with projects ranging from large master planned communities to single-tenant retail and restaurants to everything in between.
Any final thoughts you'd like to share?
Malloy: Heather and I were inspired to strike out on our own because we wanted to have more choice and autonomy about what projects we worked on and how we conducted that work. We have been so humbled by the support we have received from friends and colleagues in the industry.
As we have built our business, we have placed a high importance on building up other women in CRE. We kayak the Grand Canyon, take rafting trips in North Carolina and hike Valley mountains together. We also hold "frappy" hours at coffee houses after we drop our kids off at school.
This is how we mentor each other and get deals done. We cannot imagine doing anything else and can't wait to keep hustling for these great communities we have the honor to work in.
Read the November 2022 issue of CPE.