The digital world is evolving fast and, for most of us, unobservantly. For example, some 15 years ago we were still checking foreclosures in our weekly newspapers, but these days all we have to do is hop online and check a website such as PropertyShark. And it feels so natural and obvious to do it this way.
Few are those who stop to wonder how that data got from yellowed papers to our screens, but behind it is a lot of people doing a lot of work to turn that information into digital data, and machines that store that data. Those servers and the additional equipment are power-hungry, so hungry that the global emissions associated with data center operations are on par with the aviation industry in terms of climate impact, according to Amanda Abell, senior director of sustainability at Vantage Data Centers.
Still, the data center industry is eco-conscientious. How exactly? Commercial Property Executive asked Abell to talk about all the good strides that boost its commitment to sustainability, reach net-zero carbon and fight climate change, all while helping communities along the way. Since its launch in 2010, Vantage Data Centers has developed and operates 26 data center campuses in 17 markets across five continents. Backed by a consortium of investors, the company now spans 1.5 gigawatts of power across 10 million square feet, with 100 percent uptime.
Vantage Data Centers recently closed on a $300 million green loan earlier this year for a 44-megawatt data center in Northern Virginia. Tell us more about this.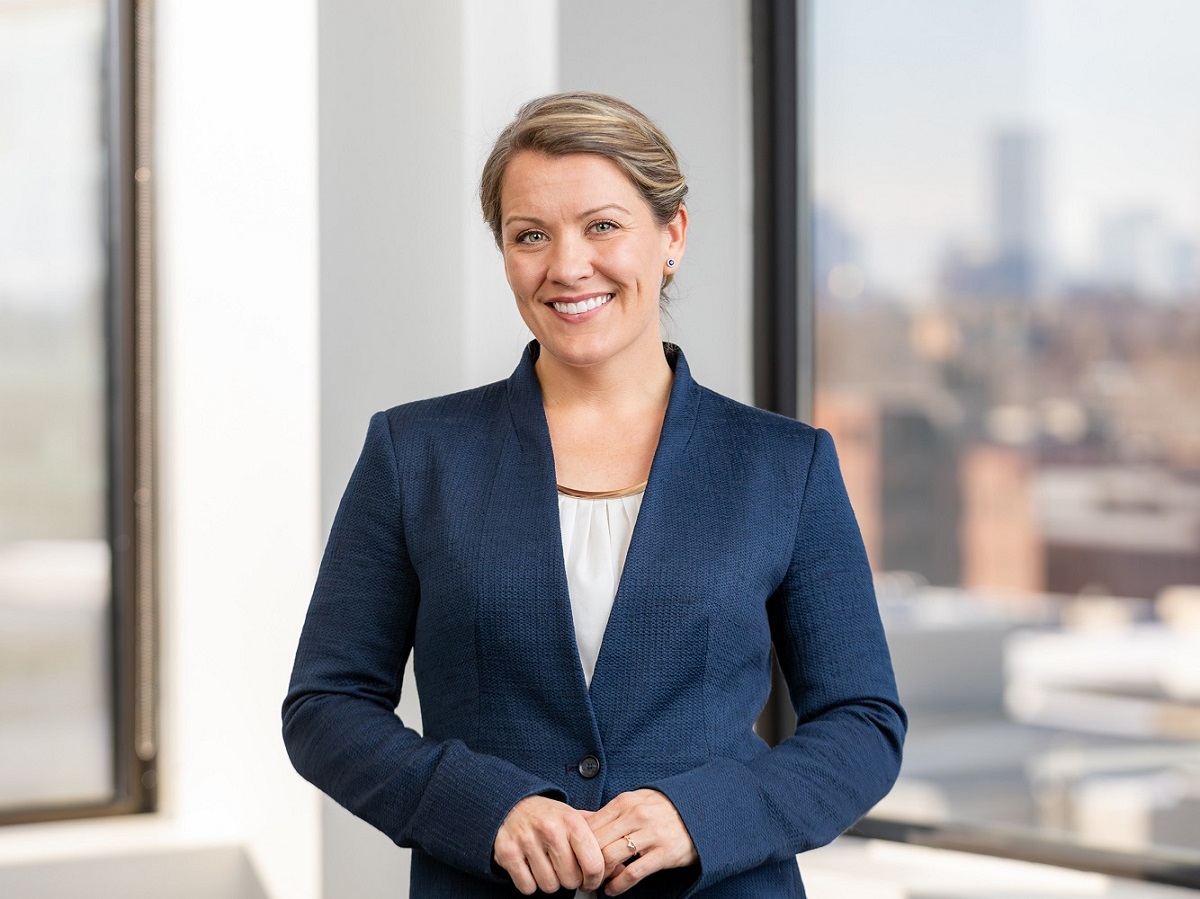 Abell: Indeed, in July, Vantage announced that we secured a $300 million green loan to drive the sustainable development of our VA13 data center in Northern Virginia. VA13 will be a 44-megawatt facility located on our 42-acre, 146-megawatt mega campus in "Data Center Alley."
VA13 is a great example of what a sustainable data center can look like—it features a lot of unique sustainable attributes, including hyper-efficient cooling with outside air economization using minimal water. The campus features outdoor lights powered by solar and wind energy sources, a multi-tier "solar tree" that powers non-critical areas, solar-powered electric vehicle charging stations and drought-resistant landscaping.
The green loan was provided by Société Générale, one of Europe's leading investment banks offering sustainability-linked financing options. This is Vantage's second successful execution of a green loan—we previously secured a $68 million green loan from Société Générale to finance the development of a third 32-megawatt facility on our growing Quebec City campus.
Last year, Vantage pledged to achieve net-zero carbon emissions globally by 2030. What stands behind this commitment and how will you meet this target?
Abell: Achieving net-zero carbon emissions by 2030 is an ambitious goal, yet one we can meet. We have successfully completed our first greenhouse gas inventory, following the Greenhouse Gas Protocol's methodology, and are in the process of creating interim reduction targets that are in alignment with the Science-Based Target initiatives methodology. The key areas of focus are reducing emissions through continued investments in energy-efficient technologies, pouring renewable energy wherever possible and, ultimately, funding carbon removal projects to offset unavoidable emissions.
We have already taken several crucial steps to reduce our carbon footprint and fight climate change. We continue to design and build energy-efficient and high-performance buildings and are focused on new products and technologies to reduce the use of fossil fuels in our generators, as well as reduce the overall energy use within our facilities. Last month, we reaffirmed our pledge to battle climate change by joining industry partners in signing The Climate Pledge, a commitment to reach net-zero carbon emissions that was co-founded by Amazon and Global Optimism in 2019. And in June, we announced a 20-year power purchase agreement with SolarAfrica, a pioneer in South Africa's solar energy financing, to help power our Johannesburg data center and supplement the local grid system.
---
READ ALSO: Net Zero in CRE Is Easier Said Than Done
---
Tell us more about your commitment to The Climate Pledge. What does it entail?
Abell: We know that effectively fighting climate change requires building meaningful partnerships with our peers. As an industry, data centers consume an enormous amount of energy, and no one company can win this fight alone. That's why we joined The Climate Pledge.
Signatories to The Climate Pledge agree to measure and report greenhouse gas emissions regularly. They also agree to implement decarbonization strategies in line with the Paris Agreement through fundamental business changes and innovations, including efficiency improvements, renewable energy, materials reductions, and other carbon emission elimination strategies. And last but not least, they commit to neutralizing any remaining emissions with additional, quantifiable, real, permanent and socially beneficial offsets to achieve net-zero annual carbon emissions by 2040—a decade ahead of the Paris Agreement's goal of 2050.
Why is sustainability so important in the data center industry?
Abell: As the digital world continues to evolve, data centers play a critical role in our society, enabling the innovation and connection that allow us to work together, no matter where we're working from. But the data center industry consumes a tremendous amount of energy…but it also provides an opportunity to have an enormous positive influence on addressing climate change globally.
Not only is lowering our carbon footprint the right thing to do, but the impacts of climate change can also have an outsized, negative impact on our industry and business. Climate change can increase energy costs, reduce the availability of resources, and even pose physical risks to our facilities. A focus on sustainability allows our industry to become more proactive to address the problem on a global scale.
What are the main design features of a net-zero carbon data center?
Abell: There are several design features that can help data centers reach net-zero carbon emissions, and Vantage has been strategically designing our facilities to limit waste and lower our carbon footprint.
The first step is to design a facility that is as energy-efficient as possible—after all, the greenest kilowatt is the one you never use. Then we look for ways to decarbonize the energy that is being supplied to the facility. In some cases, we have limited options in reducing the carbon intensity of the grid, so we are currently developing a renewable energy procurement strategy that includes purchasing renewables from a variety of sources to help offset the emissions of the energy we use.
In addition to using renewable energy whenever possible, we are also exploring opportunities to reduce the carbon intensity of the fuels we use for backup power generation. In 2022, we implemented the use of renewable diesel in the form of hydro-treated vegetable oil (HVO) in our generators at our largest campus in Europe.
Lastly, we are actively finding ways to reduce emissions in the Scope 3 category. For example, we are using materials that have lower embodied carbon. Recently, in Virginia, Arizona and California, we used fiberglass-reinforced plastic (FRP) instead of steel for some equipment supports and pedestrian walkways. By choosing FRP over steel at these locations, we reduced embodied carbon by approximately 1,800 metric tons of carbon dioxide equivalent.
Tell us more about the HVO that you are using at one of your sites in Cardiff, U.K. What does it mean, according to your 2021 ESG report, that you plan on continuing its introduction?
Abell: As our 2021 ESG report highlights, we have been exploring the feasibility of using HVO wherever available when testing our backup generators—and, of course, when activated in the case of a power failure. In terms of environmental impact, HVO is far cleaner in its sourcing and creation, resulting in less embodied carbon compared to conventional diesel fuel.
Currently, HVO supplies are limited in most markets, but we are actively working with partners in the industry to drive adoption to help increase availability and lower costs. In the meantime, in markets where HVO is readily available, we have been able to switch away from conventional diesel as our primary fuel. We will continue to assess availability in additional markets and deploy renewable diesel wherever feasible.
Who are your partners and how are you helping each other build a more sustainable future?
Abell: Lowering the industry's carbon footprint cannot fall on just one company. That's why we were excited to join a number of organizations in signing The Climate Pledge. We also partner with a variety of other organizations to achieve our shared goals.
We partner with utilities to offer renewable energy options at our campuses in North America and throughout Europe, the Middle East and Africa. We're partnering with the local community in Zurich to use waste heat to heat neighboring buildings. And, of course, we partner with our customers who share our same vision and goals for a more sustainable future. These are the types of lasting partnerships that we need to really make an impact in the fight against climate change.
Which are the biggest hurdles for the data center industry to reduce the carbon footprint all the way to net zero?
Abell: The use of technology is not slowing down, and the exponential rise in demand for data centers all over the world poses a real challenge for data center providers. Meeting that demand in a responsible way requires that companies all over the world, from design and construction to operations, make sustainability a top priority. It's crucial that more data center companies and data center consumers commit to the fight against climate change and help us speed up the transition to net-zero carbon emissions.
For example, in a multi-tenant data center, the energy consumed by our customers is close to 97 percent, with Vantage consuming about 3 percent. To create lasting change, we have to not only do our part to use the cleanest energy available but, at the same time, encourage our customers to do the same.
A sustainable future means more than reduced greenhouse gas emissions. How is Vantage tackling the other components such as waste management, water and energy efficiency?
Abell: At Vantage, our net-zero carbon commitment is just one part of a broader commitment to sustainability. We are taking a holistic approach that considers our impact on carbon, energy, water, waste and the communities where we operate.
For example, we design our facilities to use virtually no water for cooling. In areas where we must use water because of climate conditions or customer requirements, we explore solutions that minimize any negative impact, sometimes even partnering with utilities to use recycled or reclaimed water. In general, we strive to make our data centers as environmentally friendly as possible, from drought-resistant landscaping to controlled LED lighting and the use of recycled materials.