Key events
Dom Sibley becomes the second Warwickshire opener past 50, getting there in 105 balls but moments later Ian Holland is wheeling away in celebration. A glance to leg – usually one of his scoring areas – ends up being tickled behind. Still, Warwickshire's highest opening stand this season as they reach 129 for one in the 39th over. And as I type this, Alex Davies is out first ball! Shouldering arms to a ball that nipped in and flicked the off stump. A case of Hup Holland Hup! So make that 129 for two and the man they call Dutchy is on a hat-trick… which is safely defended into the leg side by Sam Hain.
Essex having end-of-season collie-wobbles – 157 for eight. No.3 Tom Westley still there 34 not out whilst Northants play Spillikins with the rest of the order. Three for Taylor, two for Sanderson and White.
Excellent recovery by Somerset from 85-5: Lewis Goldsworthy 90 not out, Craig Overton a subdued 25. Somerset 186-6 and Kent letting them get away. Maybe Zak Crawley can find some form with the bat tomorrow – quite brave to come back for this game I think.
A hundred for Matthew Montgomery
It's all happening: another hundred at Trent Bridge – Matthew Montgomery picks up his first first-class century in his fourth Champo game for Notts, who are 275-2; Young George Bell run out via an unfortunate deflection from Steel's hand, for 2, Lancs continue to wobble at 323-5, and a wicket at Headingley under grizzly skies and floodlights. James Wharton, playing instead of Finlay Bean, lbw to Singh-Dale for a 28-ball duck. Yorks 22-1.
Lancs suffer a mini-collapse thanks to Cameron Steel, Croft falling short of his century, and Vilas barely marking the page. Lancs 303-4, Jennings striding towards – what hasn't he done this year? A quadruple century?
Ali's notes from Edgbaston reminded me of the freezing cold Bob Willis Trophy final at Lord's last October, where Yates made 113 and his name was being banded round the press box as one for the Ashes tour. He wasn't named, England were thrashed, Strauss announced the HPR and Yates has had a terrible season. Sliding doors.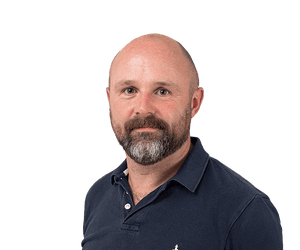 Ali Martin
Tea at Edgbaston, where Warwickshire have reached 95 for no loss from 28 overs and Rob Yates has cruised to a fine half-century from 90 balls, striking 10 four that were each as crisp as the first bite of a Granny Smith. The left-hander is 52 not out, while Dom Sibley has slotted five of his own en route to an unbeaten 39 and looked generally solid against a ball that has swung for the Hampshire seamers.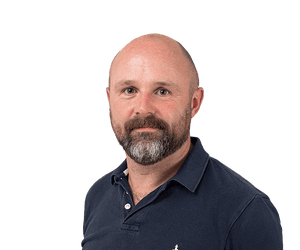 Ali Martin
It's been a maddening summer for Rob Yates – a case of the proverbial second season syndrome, averaging 11 before this match – but he's started well here, slotting eight fours as he and Dom Sibley move Warwickshire past 60 for the first wicket. No Kyle Abbot for Hampshire, who has a slight knee niggle – the kind that may have been overcome if his side were still in the title hunt, perhaps. Because I'm cool, Warwickshire's situation has made me ponder recent champions to go down …
Yorkshire champions 2001, relegated 2002
Nottinghamshire 2005/2006
Lancashire 2011/2012
Middlesex 2016/2017
Zumerzet take tea, comfortable in their Division One standing for 2023; uncomfortable at 130 for six. Craig Overton takes his frustrations out with a boundary, two, in his 8 not out. Zumerset of 2019 vintage would take the score to 200 care of the bowlers before bowling Kent out for 130. Can they turn back the clock?
DIVISION ONE
Canterbury: Kent v Somerset 107-5
Old Trafford: Lancashire 248-2 v Surrey
Wantage Road: Northants v Essex 107-4 rain
Edgbaston: Warwicks 53-0 v Hampshire rain, no play before lunch.
Headingley: Yorkshire v Gloucestershire 172-9
DIVISION TWO
Derby: Derbyshire v Leicestershire 183-6
Trent Bridge: Notts 231-2 v Durham
Hove: Sussex v Glamorgan 168-3
New Road: Worcs 105-4 v Middlesex
A(nother) century for Keaton Jennings
His fifth, with a wibble off his boots. He raises his bat round the ground and accepts a hug from Steven Croft. The players stroll off for tea. Lancs 248-2. Tea scores to follow.
Has out for 115 – a wicket for Matthew Potts. But Matthew Montgomery, 82 not out, takes up the mantle, accompanied by Joe Clarke – who hasn't had the breakthrough season that was being talked up. Fifth in the Notts batting averages with 36 – in fact not one of the Notts batters averages over forty. Notts 230-2.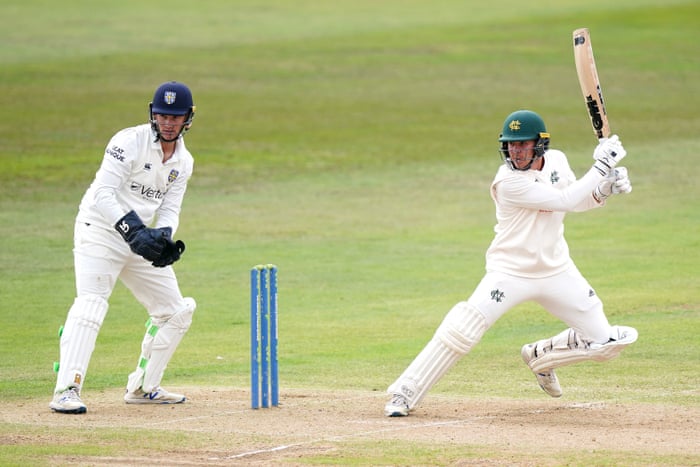 A wicket at Hove – Northeast a second for Currie. While cricket resumes at New Road, only for Worcestershire to lose Azhar Ali for the addition of just one run. 92-4.
Time for Leicestershire to draw the shower curtain across their Championship season, and scrub off after a long six months. Not a single win and nine losses to their name. Currently 168-6, with three wickets each for Derbyshire's Conners and Aitchison.
Glamorgan's batting line-up really is quite tasty: turn away and you've missed something. In this case, Shubman Gil racing to 43 with five fours and a six. It's raining now, but stick this in your gas meter.
His fourth, in a quietly gold-star season, steering Nottinghamshire towards safety, 185 for one. Even, or perhaps especially, if Hameed never plays for England again, he will be one of Peter Moores shrewder signings – a very good player but not one that suits the prevailing mood. The Keaton Jennings of Trent Bridge.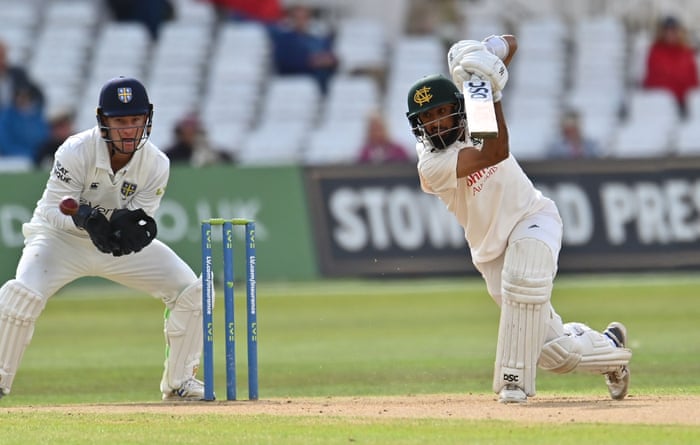 At New Road, it is still raining, with Worcestershire 84 for three.
Much knocking of bats against the dressing-room wall as Steven Croft too passes fifty at a now sun-kissed Old Trafford. The century partnership comes up off 147 balls, Lancs 196-2.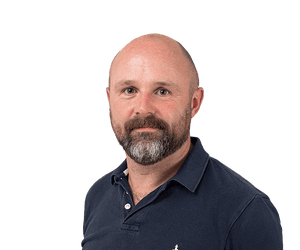 Ali Martin
There be an outbreak of cricket here at Edgbaston, where Hampshire have won the toss and elected to bowl. Keith Barker with five probing outswingers before Rob Yates drives the sixth for three and then slots a four through the covers off Mohammad Abbas. Dom Sibley is at the other end, in what is his last outing for the Bears before his return to Surrey this winter. We've got 55 overs today, with tea at 4pm.
The other Yorkshire bowlers joining Matt Fisher in Gloucestershire's demolition, a couple for Ben Coad and one for Patterson in his farewell in the white rose cap. Gloucs 133-7.
Kevin Howell's team of the year – quite a few overlaps with our CClive! attempt.
At Edgbaston, Hampshire have won the toss and will bowl. It is done Warwickshire, the knell, that summons thee down to Division Two.
Ken Grime reckons that Jennings is now the second highest Division One scorer (behind Ben Compton) – the 318 v Somerset and 238 against Yorkshire a helpful boost.
Keaton Jennings passes fifty for the seventh time in ten matches – what a great season's work. On the Lancashire balcony, players in bobble hats and coats applaud.
Rain delay at Wantage Road, Edgbaston, Headingley. Somerset are (late) lunching at 43 for three, riches galore from 9-3. Last week's double centurion – Tom Abell – back in the pavilion.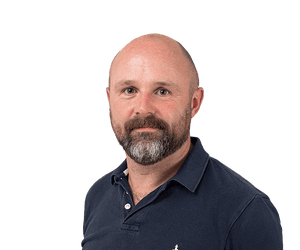 Ali Martin
We have cricketers warming up on the Edgbaston outfield … and rain coming down. Moo.
A bowl of pasta later, and Kemar Roach is running in from the Statham end, while Amla continues to shrink into his trousers at mid-on, hands in pockets. Lancs plough on 114-2.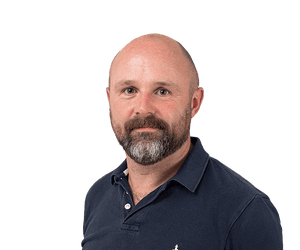 Ali Martin
Greetings from Edgbaston, where a cold wind is whistling through the concourse of the Pavilion End and members are wandering around not entirely sure what to do with themselves. Looks like the covers are coming off but no update just yet.
DIVISION ONE
Canterbury: Kent v Somerset 15-3
Old Trafford: Lancashire 103-2 v Surrey
Wantage Road: Northants v Essex 102-4
Edgbaston: Warwicks v Hampshire rain, no play before lunch.
Headingley: Yorkshire v Gloucestershire 90-4
DIVISION TWO
Derby: Derbyshire v Leicestershire 90-2
Trent Bridge: Notts 94-1 v Durham
Hove: Sussex v Glamorgan 66-1
New Road: Worcs 26-2 v Middlesex
In the Division Two soup: Notts sailing smoothly under Has (40) and Montgomery (16), 82-1. They are only seven points from securing promotion. Glamorgan have lost Byrom for 21, but Lloyd, suddenly in the form of his life, is unbeaten on 40. Glam 66-1. And rain is thwarting Middlesex at New Road: Worcs 26-2.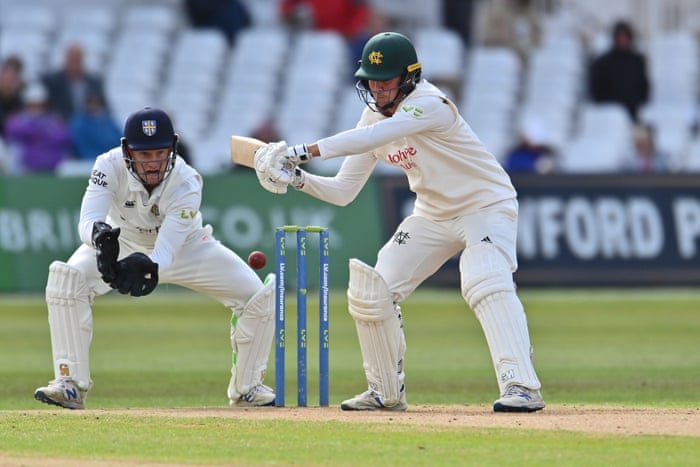 At Headingley, four wickets for Yorkshire's Matt Fisher: Charlesworth, Dent, Hammond and Ollie Price his hand. Gloucs 75-4. Fisher is playing for Yorks for the first time since they won their only match of the season, also against Gloucestershire, in April.
A wobble at Wantage Road – Essex 90-3.
A second wicket for Moriarty! A jaffa, a cracker, that does for Bohannon who goes back and is suckered. Under the helmet, Bohannon's face falls in the same direction as his saggy moustache. A career (briefly, I hope) stalled . Lancs 96-2.
Good of Somerset to keep Kent's dander up: 1-1, last week's centurion Tom Abell out for a four-ball duck.
Heather Knight is as calm and no-nonsense as ever.
An email wings in from David Price: "I was hoping that Cook & Browne would get more between them today than Essex managed in 2 innings last week. That hope has gone but a lovely delivery that dismissed Cook"
Yes, a beauty! Cook gone for 31, bowled by Taylor. Browne still there on 40 and Essex 76-1.
No play before lunch at Edgbaston.
Enter Bohannon, whose season started better than it is ending. Moriarty grabs his first wicket.
Moriarty is bowling for Surrey, for the first time this year. Whizzes through some left-arm spin from the Statham end. Lancs 48-0. Amla is wearing a sunhat and a long-sleeved thick cable-knit Surrey sweater.
Ali reports that the covers are coming off at Edgbaston.
Jamie Overton injury update – still bowling, but not looking happy.
Just to confirm that Surrey will be awarded the trophy at the end of the Lancs v Surrey match. Classic cricket cock-up: option A: award trophy to Championship side at home on a gorgeously sunny day in front of a really good crowd on the day they won. Option B: award the trophy to the Championship side, away from home, at the end of a dead match, in front of just a handful of fans, when it might be raining.
It turns out that September 26rh is a day for batting: Lancs 25-0, Essex 16-0, Gloucs 19-0, Leics 28-0, Nottinghamshire 19-0. Except at New Road – where Libby has followed Polloock back to the pavilion – TRJed.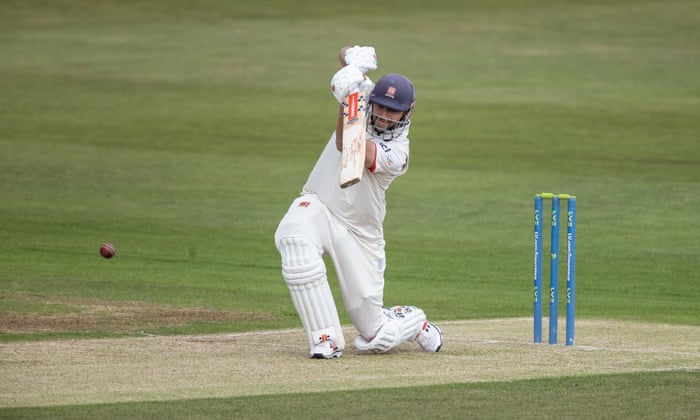 Autumn spreading her macintosh: an inspection at Canterbury at 11am; rain at Edgbaston; start delayed till 11.30am at Hove.
Arrived at Old Trafford to find the sun out, and Jennings and Wells making hay against the Champions. Lancs 25-0.
And the first wicket of the day to fall is at New Road, where Ed Pollock is caught behind off Tim Murtagh opening offering. Worcs 0-1.
And, with autumn swilling round the players' nostrils, off we go!
At Canterbury, Edgbaston and Hove.
Ali Martin is at Edgbaston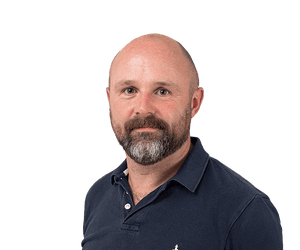 Ali Martin
Good morning from Birmingham, where contrary to popular belief the weather isn't always piña coladas by the pool. Cold with the odd sprinkling of rain or sunshine is the current situation as Warwickshire try to pull of an escape – needing to win and other results go in their favour – and Hampshire, well, they're looking to win their 10th match of the season which in another year wouldn't see them already preparing the maid of honour speech. Oh, as I write this (10 am) some additional covers have come on for the bowler's run-ups and no toss is taking place … won't lie, doesn't look like top-level professional cricket is going to break out in half an hour.
1 Surrey 247
2 Hampshire 220
3 Lancashire 201
4 Essex 181
5 Northants 151
6 Somerset 145
**************** safe
7 Yorkshire 135
8 Kent 134
9 Warwickshire 120
10 Gloucestershire 95
1 Nottinghamshire 218
2 Middlesex 209
3 Glamorgan 200
4 Worcestershire 183
5 Durham 182
6 Derbyshire 171
7 Sussex 117
8 Leicestershire 84
The top two will be promoted
DIVISION ONE
Canterbury: Kent v Somerset
Old Trafford: Lancashire v Surrey
Wantage Road: Northants v Essex
Edgbaston: Warwicks v Hampshire
Headingley: Yorkshire v Gloucestershire
DIVISION TWO
Derby: Derbyshire v Leicestershire
Trent Bridge: Notts v Durham
Hove: Sussex v Glamorgan
New Road: Worcs v Middlesex
Gary Naylor's Talking Points
Good morning, good morning! Welcome to the final fling, the last knockings, the coda of the season. Four days to go, the Championship already decided in favour of the best team – Surrey – but desperate scramblings ahead to go up – and avoid the drop. As we've come to realise over the last few days – this relegation/promotion battle is vital should the Strauss report be accepted by the counties. If it is, then Division Two status next season will give no chance of promotion – as the top six for 2024 will be culled from top six finishers in Division One 2023.
In the mix for promotion are Notts – long time favourites but who stumbled badly last round – Glamorgan, 18 points behind them, and Middlesex in second. Notts entertain Durham at home, Glamorgan get the free pass at Hove, and Middlesex travel to New Road.
Possibles to join Gloucestershire for the drop are last year's champions Warwickshire – who need a win against Hampshire and results to go their way round the grounds – Kent, who take on now-safe Somerset, and Yorkshire, at home to nothing-to-play-for Gloucestershire.