A groundbreaking was held on Tuesday, Oct. 25th, at the site of a former landfill that will soon be redeveloped into Arizona Fresh: Agri Food Innovation Center, a $200 million, 1.2 million-square-foot mixed-use facility aimed at providing fresh, healthy food —along with jobs—to an area of south Phoenix known as a food desert.
"This is one of the most important and complex projects in the city of Phoenix," Mayor Kate Gallego said during the ceremony at the site along Elwood Street where the multi-phase development will be constructed. "We hope this project will be catalytic for redeveloping our riverfront area and bringing wonderful healthy food to our community."
Located between 7th and 16th streets just south of I-17, the food innovation center is being developed by Arizona Fresh Holdings LLC, which was chosen by the city of Phoenix in 2020 to redevelop the former Del Rio landfill site.
---
READ ALSO: Why These CRE Sectors Provide Safer Harbors
---
Plaza Cos. was brought on last year as the master developer. The architects are Merger Architectural Group and Raintree Design Group. The site also includes a 20-acre former city park and is located just south of the Salt River. It's the first development as part of the Rio Reimagined plan that was pioneered by former Sen. John McCain and others to revitalize areas along both the Salt and Gila rivers, according to the Phoenix Business Journal.
City Councilman Carlos Garcia, who represents District 8 where the site is located, noted in his remarks that years ago the city chose an area populated by mostly black and brown people for a landfill. The landfill site has been unused for the last 40 years but people who live in that area still have a lower life expectancy, he said.
"This project not only is going to bring jobs, economic development, innovation that's going to help the entire region, but it's also going to help do right by the wrongs that were done in this area," Garcia said at the ceremony.
City officials and the developers hope redeveloping the site into an area that will provide fresh produce, open spaces for recreation, research and innovation and up to 1,500 jobs will make positive changes for the community and the city. The center is projected to have an annual economic impact of $848 million, according to city estimates. The city anticipates receiving about $3.5 million a year in tax revenue.
Plans outlined
The Phoenix City Council approved plans for the redevelopment in October 2020 and has worked with Arizona Fresh since then to bring the project to fruition. Final agreements were signed in September, culminating in yesterday's groundbreaking ceremony. The city will also pay the developer as much as $20 million for the construction of a new road at the site, according to the Business Journal.
The first phase is expected to take more than five years to complete and will include the new road that will be known as Arizona Fresh Parkway. Phase one will feature the Arizona Fresh International Marketplace with a 400,000-square-foot cross-dock wholesale distribution complex and a nearly 29,000-square-foot farmers' market. Open space for community recreation, wellness, events and gatherings will include an amphitheater, 20-acre park, hiking and biking trails along the river.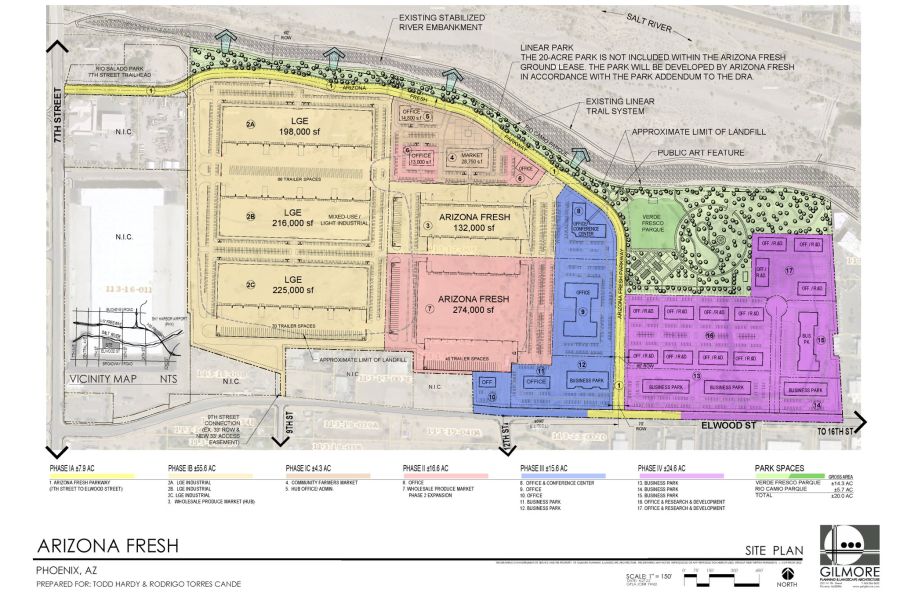 Future phases will include a multi-tenant office park, on-site university research center, start-up incubation and conference center, educational programs, test fields and a living lab for the farm to market supply chain. Remediation will be done throughout the process as more space is developed.
Arizona Fresh team
Members of Arizona Fresh Holdings LLC are: Guadalupe Miranda, Grupo Cintar, a bean producer and exporter based in Mexico that ships throughout the U.S.; Alejandro Vasquez, Mercury Investment & Export Promotion, who specializes in commodity export promotion and finance and economic development; Rodrigo Torres Cande, ARTC LLC, who has experience in public and private real estate and bi-lateral business experience between the U.S. and Mexico; and Todd Hardy, Tuscan Coast Enterprises LLC, a former corporate counsel to Fortune 500 and NASDAQ companies with experience in real estate and economic development in the Greater Phoenix area.